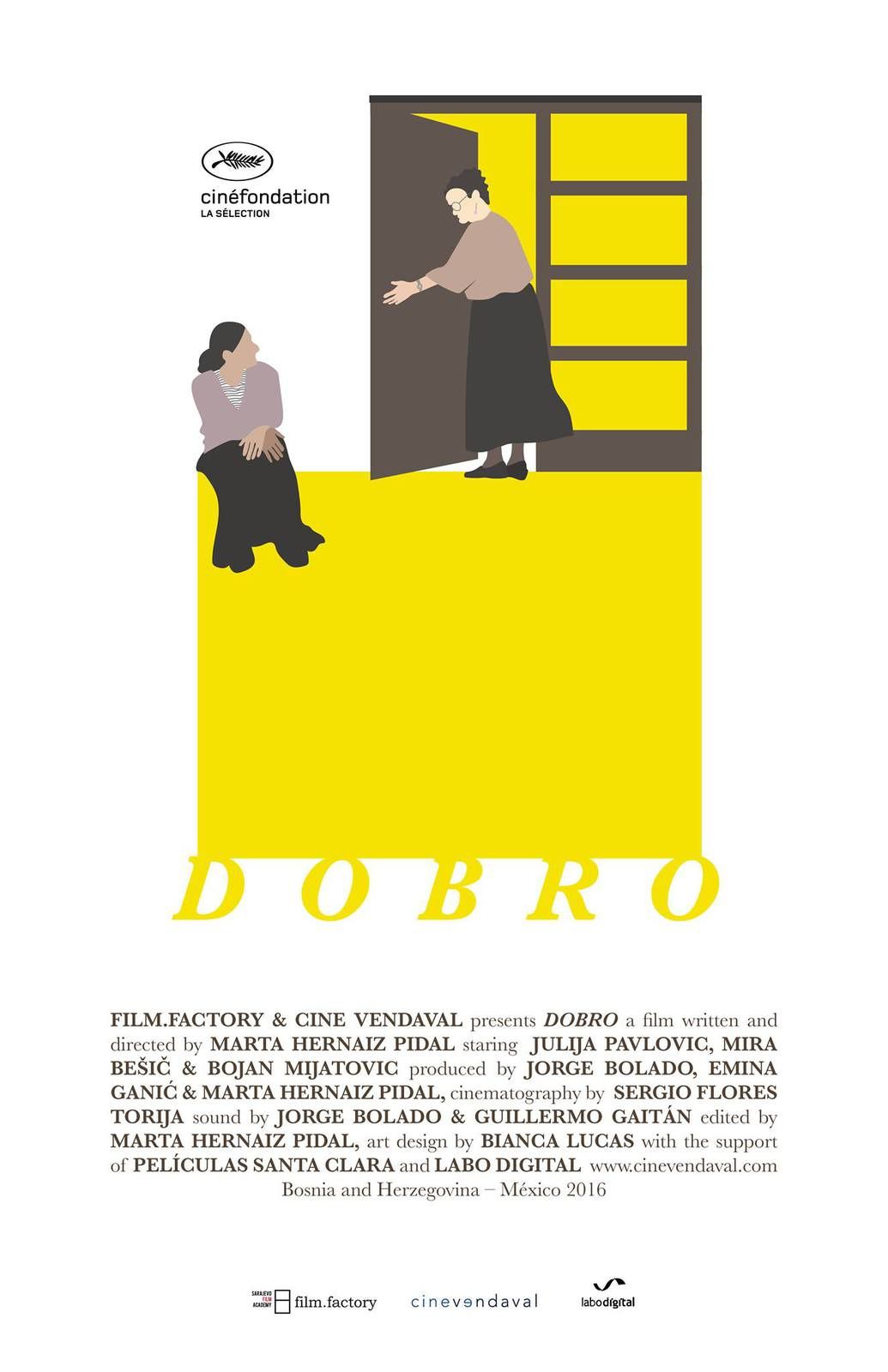 Directed by: Marta Hernaiz Pidal
Genre: Comedy/ Social
Running Time: 15 min
Year of production: 2016
SYNOPSIS
Mira, a Romani woman, decides to sit and rest at the front entrance of Selma's block of flats. Selma notices her and becomes annoyed by the situation. She will try everything to kick Mira out, but she will refuse by only answering her with the word "fine".
PRODUCTION AND DSTRIBUTION
Production Company: Cine Vendaval (Mexico), Film Factory (Bosnia)
Film exports/World sales: Gonella Productions
CAST
Julija Pavlović
Mira Bešič
Bojan Mijatović
FULL CREDITS
Director: Marta Hernaiz Pidal
Screenwriter: Marta Hernaiz Pidal
Producers: Jorge Bolado, Eminca Ganic, Marta Hernaiz Pidal
Assistant Director: Bianca Lucas
Director of photography: Sergio Flores
Production Designer: Bianca Lucas
Sound: Levan Lomjaria, Graeme Cole
Editing: Marta Hernaiz Pidal
Sound Editing: Jorge Bolado, Guillermo Gaitán
Music Composer: Jorge Bolado, Guillermo Gaitán
TECHNICAL DETAILS
Genre: Tragicomedy
Sub-genre: Social
Production language: Bosnian
Country of origin: México – Bosnia & Herzegovina
Year of production: 2016
Total running time: 15 min
Production format: 4.5 K
Color type: Color
Aspect ratio: 2.55.1 Scope
Sound format: Dolby
AWARDS
* Winner Best Mexican Short Film - Guanajuato International Film Festival 2016
* Special Mention: Woman in Film and Television Association Mexico - Guanajuato Film Festival
* Special Mention - Festival International del Cinema Povero 2016 Ispra, Italy
FESTIVAL SELECTIONS
- Cannes Film Festival, Cinefondátion La Selection 2016 Cannes, France
- Cinefondátion Show Case: Cinemathèque de Paris 2016 Paris, France
- GIFF Guanajuato International Film Festival 2016 Guanajuato, Mexico
- Morelia International Film Festival 2016 Michoacán, Mexico
- Shorts México 2016 Ciudad de México, Mexico
- Sarajevo International Film Festival 2016 Sarajevo, Bosnia Herzegovina
- Best Cannes Short Films Show Case, Let's Live Moscow Festival of Russian Cinema, 2016 Moscow, Russia.
- Pacific Meridian International film festival of Asian Pacific 2016 Vladivostok, Russia
- New York international Film Festival 2016 NY, USA
- Festival International Del Cinema Povero 2016 Ispra, Italy.
- Film Femmes Mediterranean Film Festival 2016 Marseille, France
- Festival du Court Métrage Mediterranean de Tangier 2016 Tangier, Morocco
- Carthage Film Festival 2016, Carthage, Tunisia
- Muestra Internacional de Mujeres en el Cine y la Tv 2016 Ciudad de México, México
- Tirana International Film Festival, Tirana Albania 2016
- Ekadeshma International Short Film Festival, 2016 Kamal Pokhari, Nepal
- Hiroshima International Film Festival 2016 Hiroshima, Japan
- Certamen Internacional de Cortos de la Ciudad de Soria 2016, Soria, España.
- Sleepwalkers International Short Film Festival, Tallin, Estonia
- Festival de Cine del Puerto 2016, Oaxaca, México
- Jaipur Film Festival 2017, Jaipur, India
BIOGRAPHY OF THE DIRECTOR
Marta Hernaiz Pidal
Born in Mexico City, 1988. She graduated with honours at the "Centro de Diseño Cine y Televisión" University with the short film "Pollito Chicken,Gallina Hen" which has been successful in Mexican and Latin American film festivals.
Marta completed her master's degree in Bosnia Herzegovina at film.factory, school of the prominent film director Béla Tarr.
"Dobro", a short film she made in Sarajevo, has selected in Cinefondátion at Cannes Film Festival, 2016 and won best short-film at Guanajuato International Film Festival 2016.
Marta has also worked as co-cinematographer and producer of "La Asunción de José" directed by the Colombian director Juan Rocha and
"I am God Dogma I," directed by Jorge Bolado, which is currently in postproduction process.
She is currently editing her first feature film "The Chaotic Life of Nada" which was also shot in Bosnia and Herzegovina which obtain the "Impulso Morelia" award for post-production at Morelia International Film Festival.
Berlinale Talents is the annual summit and networking platform of the Berlin International Film Festival for outstanding creatives from the fields of film and drama series. | 11 - 16 FEB, 2017
Directed by Marta Hernaiz Pidal. With Mira Besic, Bojan Mijatovic, Julija Pavlovic. Dobro is a short film about the endless fight of two woman. A Mexican and Bosnian co-production set in Sarajevo.