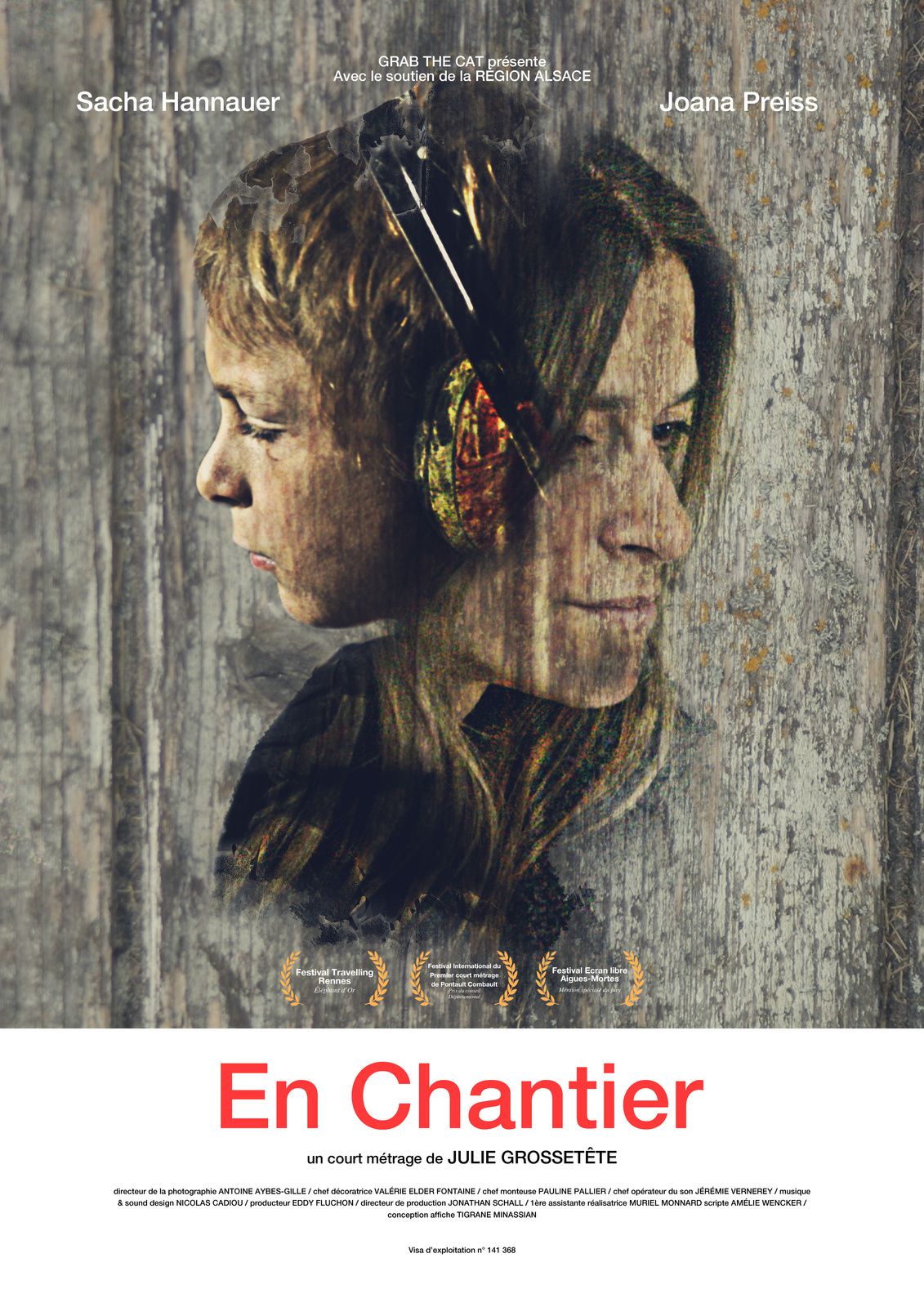 Director: Julie Grossetête
Production Company: Grab the cat
Genre: Fiction
Running Time: 13'35''
Year of production: 2015
SYNOPSIS
English: Simon lives alone with his mother Elodie, in a house in perpetual reconstruction. He deeply feels Elodie's absence, obsessed as she is with the work on their house. Fascinated by machines, Simon finds comfort and company in a forgotten backhoe in a neighbouring field…
French: Simon vit seul avec sa mère, Elodie, dans une maison en perpétuel chantier. Il subit l'absence quotidienne d'Elodie, obnubilée par la réhabilitation de leur maison. Fasciné par les machines, il trouve réconfort auprès d'un tractopelle abandonné dans un champ voisin…
CAST :
Joana Preiss
Sacha Hannauer
FULL CREDITS
Director: Julie Grossetête
Screenwriter: Julie Grossetête
Producer: Eddy Fluchon
Assistant Director: Muriel Monnard
Director of Photography: Antoine Aybes-Gille
Production Designer: Valérie-Elder Fontainre
Sound: Jérémie Vernerey
Editing: Pauline Pallier
Sound Editing: Nicolas Cadiou
Music Composer: Nicolas Cadiou
TECHNICAL DETAILS
Genre: Drama
Sub-genre: Kids/Family
Production language: French
Country of origin: France
Year of production: 2015
Total running time: 13'35''
Production format: HD
Color type: Color
Aspect ratio: 1.35
Sound format: 5.1 or stéréo
AWARDS
Golden elephant at the 27th Travelling Festival (Rennes)
Prize of the departemental Council and Special mention Secondary school's Prize at the 16th
International First Short Film Festival of Pontault Combault.
Jury's Special Mention at the 19th Festival Ecran libre of Aigues-Mortes.
Special mention Best Short for 6y-9y by Young Jury and Best Short for 15y-18y by Young Jury at KINOdiseea International Children Film Festival 2016 (Bucharest-Romania).
FESTIVAL SELECTIONS
Selected at the Cinekid Screening Club 2016, at the Andorra Kids Film Festival 2016, at the 2016 edition of the International children's filmfestival Filem'On in Brussels, at the Second Muestra of short movies Buenos Aires/Paris, at the 2016 edition of International short movie Festival in Outaouais (Canada), at the Vittorio Veneto Film Festival 2016 – Kids and Teens Film Festival (Italy) and at the 2.3rd Edition of ARCIPELAGO - International Festival of Short Films and New Images (Rome).
BIOGRAPHY OF THE DIRECTOR
Julie Grossetête is a young french director, working as production director for animation series and managing audiovisual workshop in psychiatric area. "Under construction" is her first short movie.