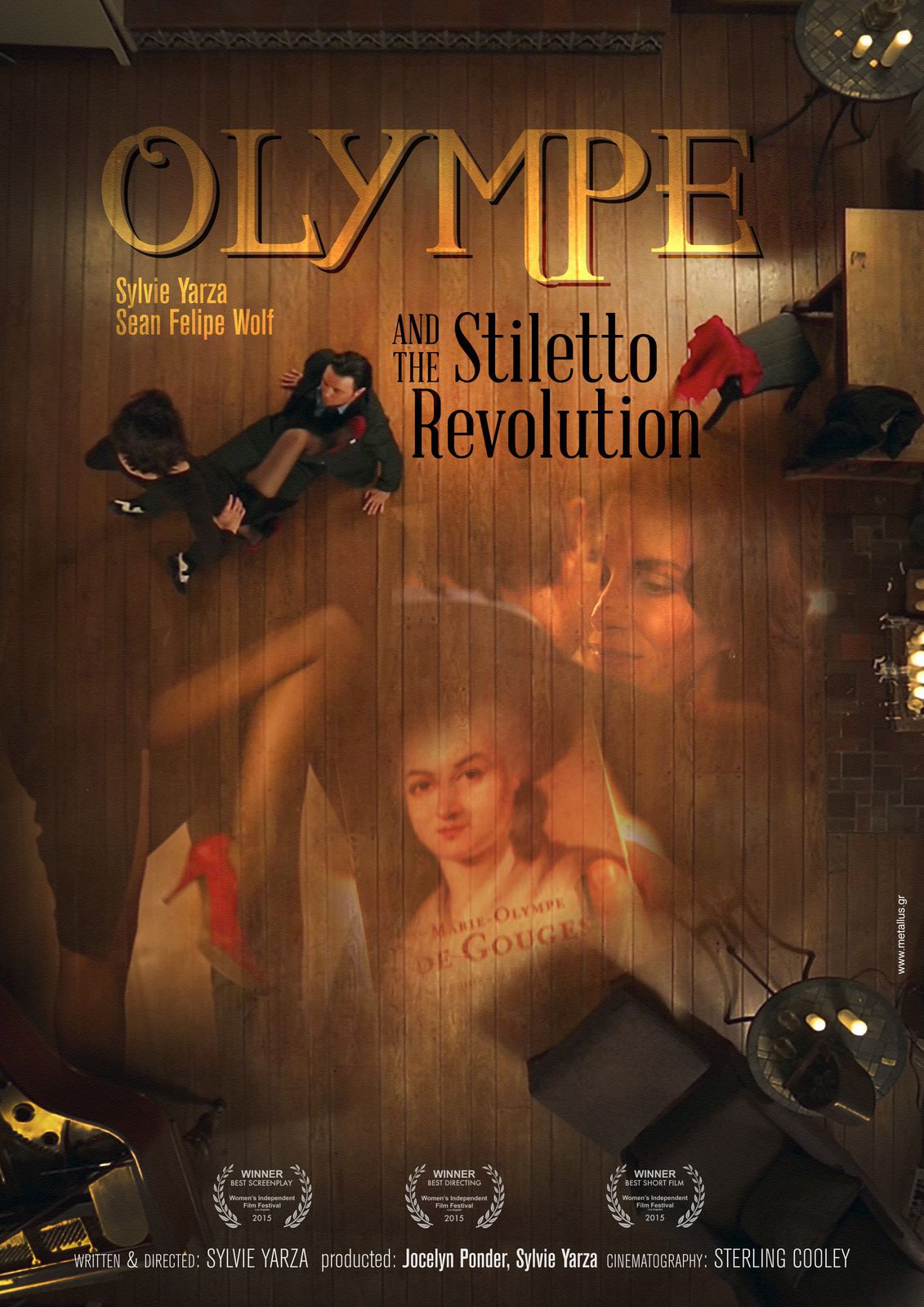 Director: Sylvie Yarza Production Company: Indépedant Genre: Fiction / Thriller / Tragi-comédie Running Time: 13,33 Year of production: 2015
SYNOPSIS
English: This movie is a murder thriller set to a tango beat led by the shadow of the French revolutionary Olympe de Gouges. The movie´s main character, Vita, is Olympe´s direct descendant. Though a professional tango dancer, her true passion is defending the beliefs of her brilliant ancestor. Anyone who makes fun of those values, or who fails to see how short reality has fallen of those ideals, enrages her. And that is why she invented a very unique and sexy way of killing. The "French Revolution" is as sacred as much as the values it conveys! Entertaining with musical delight this movie expose the cruel reality, the historical truth, and the irony of this eternal debate. French: Tragi-comédie aux effluves de tango sur fond de Révolution Française.
CAST
Vita - Sylvie Yarza Victor - Sean Felipe Wolfe Chief Police Officer - Jeffrey Ferguson Police Officer - Quinn Nagle
FULL CREDITS
Director: Sylvie Yarza Screenwriter: Sylvie Yarza Producer: Benoit Herve / Joseph Fabio / Josceline Ponder / Sylvie Yarza Assistant Director: Josceline Ponder Director of Photography: Sterling Cooley Sound: Brian Sweet Editing: Sterling Colley / Sylvie Yarza Sound Editing: Jorge Martinez / Dan Olmstel
TECHNICAL DETAILS
Genre: Fiction Sub-genre: Thriller / Tragi-comédie / Mystery Production language: English Country of origin: U.S.A Year of production: 2015 Total running time: 13,33 Production format: Color type: Couleur
AWARDS
WINNER: BEST SCRIPT / WOMEN'S INDEPENDENT FILM FESTIVAL 2015 (USA) WINNER: BEST DIRECTING / WOMEN'S INDEPENDENT FILM FESTIVAL (USA) WINNER: BEST SHORT FILM / WOMEN'S INDEPENDENT FILM FESTIVAL (USA)
BIOGRAPHY OF THE DIRECTOR
Sylvie Yarza has a Masters in Fine Arts, she is an artist from the renaissance, trained in painting, music and the performing arts. She combines all of her skills into film making.