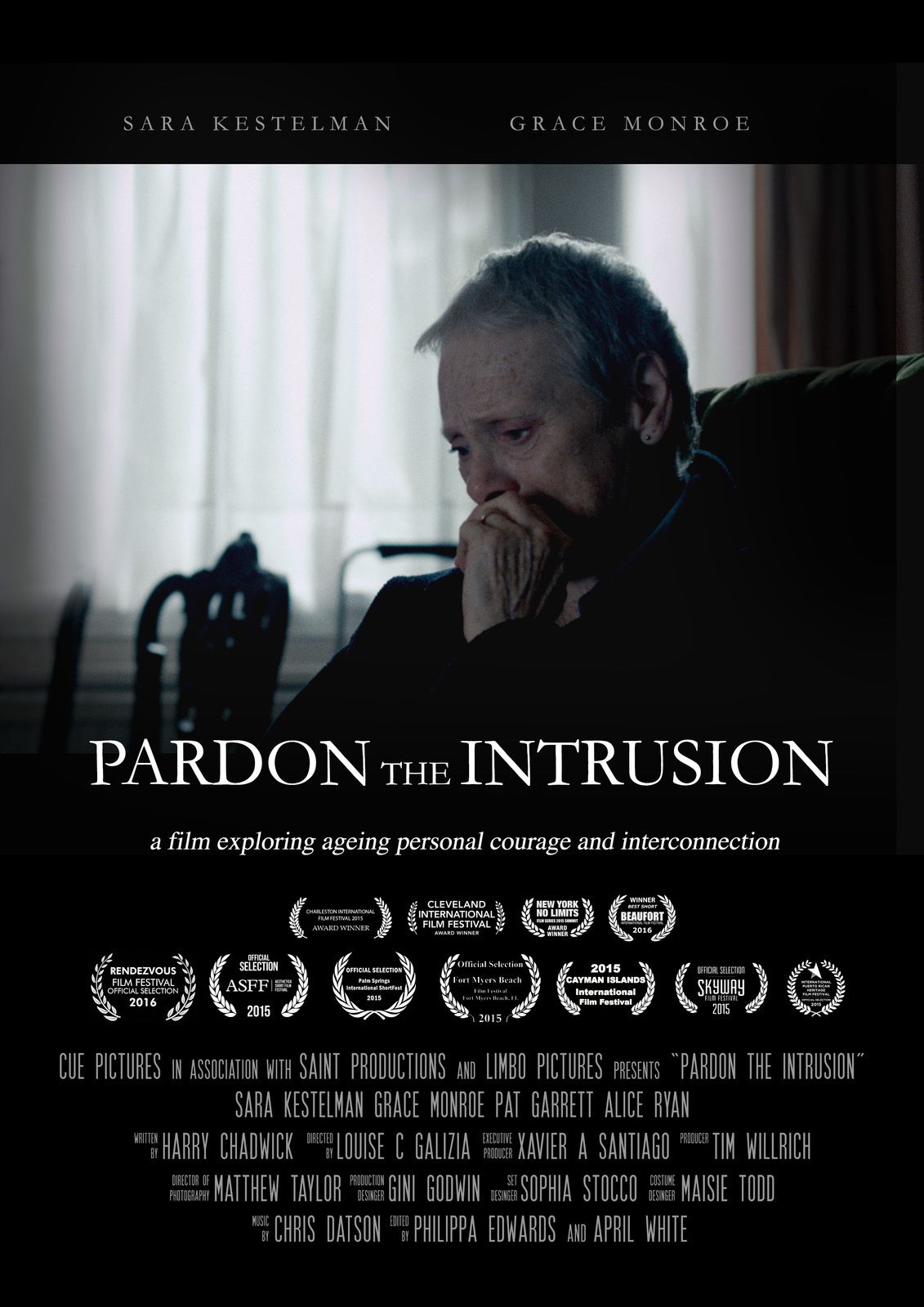 Directed by: Louise C Galizia
Genre: Drama
Running Time: 19:01
Year of production: 2014
SYNOPSIS:
A film exploring ageing, personal courage, and interconnection. Housebound after a stroke, elderly Betty Wallis receives her basic needs through carers, who visit briefly each morning and night. Soon however, Betty finds she is not alone, as an intruder inhabits her home. Unable to speak and with the invader eluding detection, Betty finds herself stuck in a frightening situation as the figure begins to move in permanently. After sleepless nights, she is finally confronted. A teenage runaway, Grace, has become brazen enough to move about the home freely. Realising she is unable to call for help, Betty launches her offensive as best she can. Undeterred by her efforts, Grace continues to live with Betty and avoid the carers, raiding the fridge and occasionally taking a shower. Although frustrated, Betty begins to find comfort knowing Grace is there. Their relationship grows to one of mutual respect and finally into friendship.
PRODUCTION AND DSTRIBUTION:
Production Company: Cue Pictures Film exports/World sales: Gonella Productions
CAST:
Sara Kestelman Grace Monroe Pat Garrett Alice Ryan
FULL CREDITS:
Director: Louise C Galizia Screenwriter: Harry Chadwick Producer: Tim Willrich, Xavier Santiago Assistant Director: Riccardo Vincenti Director of Photography: Matthew Taylor Production Designer: Gini Godwin Sound: Ewerton Rodrigo Editing: April White, Philippa Edwards Sound Editing: Ed Walker Music Composer: Chris Datson
TECHNICAL DETAILS:
Genre: Drama Production language: English Country of origin: UK Year of production: 2014 Total running time: 19:01 Production format: Digital Color type: Color Aspect ratio: 16:9 Sound format: Dolby Surround
AWARDS:
Best Live Action Short - Cleveland International Film Festival Best Women's Short - Cleveland International Film Festival Best Film - Charleston International Film Festival Best Short Film - New York No Limits Film Festival Best Short Film - Beaufort International Film Festival
FESTIVAL SELECTIONS:
Palm Springs International ShortFest and Film Market Fort Myers Beach Film Festival International Puerto Rican Heritage Film Festival Charleston International Film Festival Cayman Islands International Film Festival Skyway Film Festival New York No Limits Film Festival Beaufort International Film Festival Cleveland International Film Festival Aesthetica International Film festival
BIOGRAPHY OF THE DIRECTOR:
Louise's fascination with the visual arts came around at a very young age, and after starting her professional career working in the design industry, she soon moved on to studying Film and theatre. Louise then started working as an Assistant Director in the feature film industry in London, working with some of the most acclaimed directors such as Alejandro Almenabar (Agora), Lee Tamahori (The Devils Double), Dustin Hoffman(Quartet), Joe Wright (Anna Karenina), and many more. After gaining invaluable lessons in the process of filmmaking and its industry, She went on to produce and direct a short film 'Duende' which has gone on to be officially selected for the Edinburgh short film festival 2013 and the Van d'Ors film festival 2013 here in London. In 2014 She directed the short film 'Pardon the Intrusion', which has gone on to win awards at Cleveland International Film Festival, New York No Limits film festival, Charleston International Festival & Beaufort International Film Festival, as well as being officially selected for Palm Springs International Film Festival, Aesthetica Film Festival, Short of the week and many more. She is currently developing two new scripts for short form as well as working on various feature film ideas.