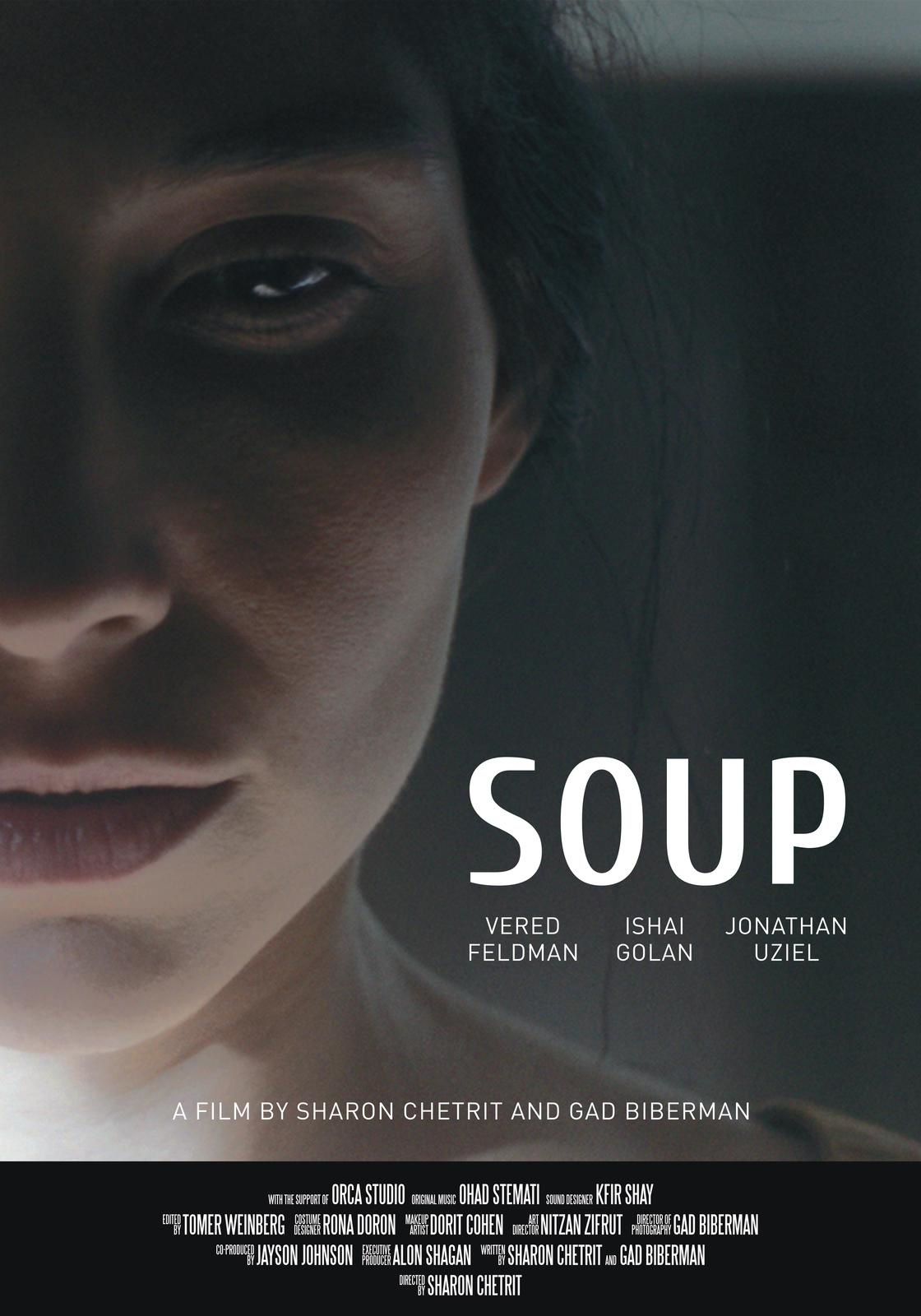 Directed by: Sharon Chetrit
Genre: Psychological thriller
Running Time: 26:48
Year of production: 2016
SYNOPSIS
A pregnant woman struggles with frightening illusions brought on by birth pangs as she makes a pot of soup.
PRODUCTION AND DSTRIBUTION
Production Company: Alone Shagan
Film exports/World sales: Gonella Productions
CAST
Vered Feldman
Ishai Golan
Jonathan Uziel
FULL CREDITS
Director: Sharon Chetrit
Screenwriter: Sharon Chetrit and Gad Biberman
Producer: Alone Shagan
Assistant Director: Harel Itscovitch
Director of Photography: Gad Biberman
Production Designer: Nitzan Zifrut
Sound: Kfir Shai
Editing: Tomer Weinberg
Sound Editing: Kfir Shai
Music Composer: Ohad Stemati
TECHNICAL DETAILS
Genre: Psychological thriller
Sub-genre: Film-Noir
Production language: Hebrew
Country of origin: Israel
Year of production: 2016
Total running time: 26:48
Production format: Independence
Color type: RGB
Aspect ratio: 2.39
Sound format: Dolby SR
AWARDS
17th India World Film Festival - Best Actress Award
San Francisco Festival of Globe - Best Short Screenplay
FESTIVAL SELECTIONS
17th India World Film Festival - Official Selection
San Francisco Festival of Globe - Official Selection
Hollywood screenplay contest - Official Selection
Festival de Cannes- Short Film Corner
BIOGRAPHY OF THE DIRECTOR
Sharon Chetrit was born and raised in Nahariya. His first film job was as a producer on propaganda films in the Israel Defense Forces. Soon He became the Deputy Head of Productions in the IDF Spokesperson Film Unit.
Sharon studied for an AA in Directing Development at Psagot Film and Television Academy in Karmiel then moved on to Tel Aviv to work in Television and Commercial productions.
Sharon is currently developing his debut feature psychological thriller screenplay.